Garage Contractors and Concrete in Central Ohio including the areas of-
Ashille, Bexley, Canal Winchester, Columbus, Dublin, Franklinton, Gahanna, Galloway, Grandview, Grandville, Grove City, Groveport, Hilliard, Lewis Center, Obetz, Olde Towne East, Pickerington, Upper Arlington, Valleyview, Westerville, Whitehall and Worthington.
Hello Spring!
In addition to building your new custom garage in the Columbus area,
did you know we custom build wood, vinyl and aluminum fences on site?
Fences add security while increasing the overall value of your property
Installing a privacy fence in your yard can offer several benefits, depending on your specific needs and preferences. Here are some of the key advantages to building a fence on your property.
Enhanced Privacy: As the name suggests, a privacy fence provides an increased level of privacy by obstructing the view from outside your property. This can be particularly valuable if you have close neighbors or if your yard is exposed to public areas.
Security: Privacy fences can act as a deterrent to potential intruders and can help keep unwanted individuals or animals out of your yard, thus enhancing the security of your property.
Noise Reduction: Privacy fences can help reduce external noises, such as traffic or neighborhood activities, making your outdoor space more peaceful and conducive to relaxation.
Boundary Definition: Fences clearly mark the boundaries of your property, helping prevent disputes with neighbors and providing a clear indication of where your land begins and ends.
Increased Property Value: In addition to enhancing curb appeal, a well-designed and well-maintained privacy fence can potentially increase the overall value of your property.

A fence that complements the architectural style of your home can create a harmonious and cohesive look for your property. Depending on your preferences, a fence can either frame scenic views or block out unsightly ones, helping you control the visual aspect of your outdoor space. With a wide range of materials, styles, and designs available, you can customize a fence to match your personal taste and the overall theme of your property.
Ultimately, the decision to get a fence will depend on your specific needs, priorities, and the goals you have for your property. It's important to carefully consider factors such as your budget, local regulations, and the overall impact a fence will have on your property's functionality and aesthetics.
Call us today 614.238.9742 to give you the best quality fence for your home. 
Fences create an outdoor space for family time while increasing curb appeal of your property.
Curb Appeal: Depending on the style and design, a well-maintained privacy fence can contribute to the overall aesthetic appeal of your home and yard, potentially increasing its value.
Safe Play Area: If you have children or pets, a privacy fence can provide a safe and contained area for them to play and explore without the risk of wandering off or encountering external hazards.
Outdoor Enjoyment: With increased privacy, you're more likely to feel comfortable spending time in your yard, whether it's for gardening, outdoor dining, relaxation, or other leisure activities.
Landscaping Opportunities: A privacy fence can serve as a backdrop for landscaping features like gardens, shrubs, and decorative elements, enhancing the beauty of your outdoor space.
Wind and Sun Protection: Depending on the design of the fence, it can provide some protection from strong winds and excessive sun exposure, making your outdoor space more enjoyable in varying weather conditions.
Reduced Visual Clutter: By blocking out views of neighboring properties or unsightly areas, a privacy fence can create a cleaner, more visually appealing environment.

If you are considering hiring a contractor to install a privacy fence it will come with many positive attributes. It will enhance your lifestyle while creating enjoyment for the entire family. Privacy fences also come in various styles, materials, and heights, allowing you to choose an option that best suits your taste and complements the architectural style of your home. If you would like assistance in choosing the best option for your home, give us a call today 614.238.9742.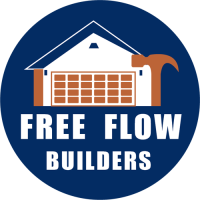 Custom Garages and Concrete Columbus and Central Ohio

Free Flow Builders has a BuildZoom score of 113 ranking in the top 3% of 52,717 Ohio licensed contractors.
Copyright © 2022 All rights reserved.