Adding systems and solutions to your custom built garage is a win win!
There are too many benefits to having a Custom-built garage and there are many systems to add to it to give you solutions so let's go through some of them! The most important part of a garage is to create a safe space to keep your most prized possessions like your Bugatti, BMW or Tesla. It also can add some super cool functionality like a work space or a sports "man cave". 
Here is the quick list of benefits:
Tailored Design: You can design the garage to perfectly match your needs and aesthetic preferences. Our team at Free Flow Builders, LLC has the expertise and knowledge to guide you every step of the way.
Optimized Space: Create storage solutions, workspaces, and organization systems tailored to your belongings. Ask yourself how this space can be best utilized.
Increased Property Value: A well-designed garage can enhance your home's overall value.
Functionality: Customize the layout for specific uses like workshops, art studios, or extra living space. I love the custom garage build we did just recently. It was a three car with the added living space directly above the garage which todays is a perfect living space for an Air BnB. 
Quality Materials: You have control over the materials used, ensuring durability and longevity. Free Flow Builders only uses the highest quality materials and because we do this everyday, we  buy at the best pricing and pass on the savings to you.
Personalization: Reflect your unique style and taste in the garage's appearance. We love to pick out color harmony and different materials to add the extra beauty to the space.
Efficiency: Include energy-efficient features and insulation for climate control.
Future Expansion: Plan for potential future needs, such as more vehicles or storage space.
Solar panels: Homeowners who are looking for clean energy. The benefits of solar power go beyond just saving money on your energy bills; you can take complete control of your electricity use and energy efficiency, reducing or even eliminating your reliance on utility companies. Even more impactful, you can directly lower greenhouse gas emissions and your reliance on fossil fuels, which provides a number of tangible environmental benefits.
PowerWall Battery Systems: are great idea too. PowerWall is an integrated battery system that stores your solar energy for backup protection, so when the grid goes down your power stays on. Battery and Solar give homeowners a 30% tax credit so even more reasons to make the investment to protect your family.
In my opinion, a custom-built garage not only adds practicality to your property but also allows you to showcase your artistic eye in designing a functional yet visually appealing space. 
A garage can be a truly beautiful, even sexy addition to your property. I mean who wouldn't want to hang out in a climate controlled space with all your toys ? 
Time to invest and plan your custom garage build today because it's truly a win win to have it. Call us today 614.238.9742 to give you the best custom garage build for your home.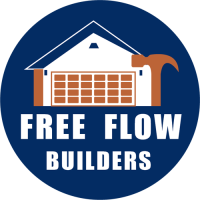 Custom Garages and Concrete Columbus and Central Ohio

Free Flow Builders has a BuildZoom score of 113 ranking in the top 3% of 52,717 Ohio licensed contractors.
Copyright © 2022 All rights reserved.