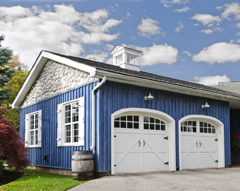 Cool down your garage when summer heats up!
Do you have an older home with an older garage? Many of the quaint neighborhoods such as Olde Town East, Italian Village, Short North, Victorian Village, German Village, and much of downtown Columbus have beautiful homes that were built back in the day when the garage was not part of the main house. Most were built without ventilation systems or insulation, which is why so many garages are freezing cold in the winter and blazing hot in the summer.
If this sounds like your garage, there are plenty of modern inventions and methods to keep it cool in the summer. Check out this list here:
Fans can be inexpensive and work very well. They can easily pull hot air out of your garage by simply placing one in your window. Adding a second one directly across from the first fan can really create great air flow and a solid breeze inside your garage.
Installing ventilation systems can be tremendously helpful in cooling your garage in the summertime.
A passive ventilation system; mechanically powered, are installed on the roof of the garage. This system will use very little energy consumption to dissipate the heat from the garage attic.  The most common passive ventilation systems are spinning turbine roof vents. Call Paul to get a quick detailed explanation on how easy this can be added to your garage.
Active ventilation systems are a superior solution to cool your garage. Typically installed by Free Flow Builders and they are mounted on the roof or within the garage's walls.
A window AC Unit; getting a smaller, separate AC unit is the way to go, but you'll want to consider its size in comparison to the size of the garage.  A typical two-car garage is around 20-feet wide by 20-feet deep, so this 400 square-foot space will need 9,000-10,000 BTU AC unit. It will increase your electric bill so you must weigh the benefits for you.
Another easy and cost-effective cooling method is to install insulation.  Insulation's purpose is actually to regulate temperatures. This means that even in the hot summer months, insulation will lower the temperature inside your garage. Another benefit is most folks can tackle it as a DIY project.