The best garage design trends incorporate function and beauty
Garage design trends have evolved to make these spaces more functional and pleasing to the eye.
Multi-Functional is what our dream garage is today. Garages are no longer just for parking cars. They're transformed into multi-purpose spaces, including home gyms, home offices, art studios, or even guest rooms. This trend reflects the need for versatile spaces. The more function we can get using our garage, the more living we can enjoy! The evolution of our garage simply being used for parking the Tesla is old news. Here is a list of things to consider in building your custom garage to work well with the way you live. Consider what your lifestyle needs are and use the garage for optimum functionality. Don't forget to add beautiful components like color, eco-friendly features and  natural lighting. We can help plan it so let's go through this list!
Sleek and Modern Aesthetics: Clean lines, minimalist designs, and contemporary finishes are in demand. This includes sleek cabinetry, polished concrete floors, and modern lighting fixtures. 
Smart Garages: Integration with smart home technology is on the rise. Smart garage door openers, climate control, and lighting can be controlled remotely via smartphones. 
Eco-Friendly Features: Sustainable materials, energy-efficient insulation, and LED lighting are popular choices for eco-conscious homeowners.
Custom Storage Solutions: Tailored storage systems that maximize space and organization, such as wall-mounted shelving, custom cabinets, and overhead storage racks.
Durable Flooring Options: Epoxy flooring is a durable and attractive choice for a garage. It's easy to clean and comes in various colors and finishes.
Bold Color Palettes: Garages are no longer limited to neutral colors. Bold and vibrant color choices, often reflecting the owner's personality, are trending.
Open Shelving and Display Areas: Open shelving and display areas are used to showcase collectibles, tools, or art pieces, adding a personalized touch to your garage.
Natural Light: Incorporating windows, skylights, or glass garage doors allows more natural light to flood the space. 
Hybrid Car Charging Stations: With the growing popularity of electric and hybrid vehicles, integrated charging stations are becoming more common. Custom installation of your charging system in the perfect spot makes for easy parking and charging in your garage.
Outdoor Integration: Garages are designed to seamlessly flow into outdoor spaces, creating a harmonious connection between indoor and outdoor living. We can add concrete patios and walkways that seamlessly create the perfect living space from your garage to your backyard or entry way to the house.
Industrial Elements: Incorporating industrial elements like exposed beams, metal accents, and raw materials for a rustic yet modern look.
Remember, the latest trends should align with your lifestyle, preferences and needs. Combining aesthetics with functionality is key to creating a garage that stands out in today's design landscape. We're hope this sparks some ideas and helps you to imagine the perfect dream garage.
When you are ready to invest and plan your custom garage build call us at 614.238.9742! 
We want to build the best garage to fit your lifestyle.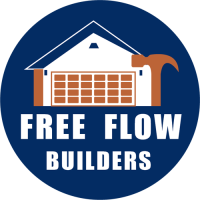 Custom Garages and Concrete Columbus and Central Ohio

Free Flow Builders has a BuildZoom score of 113 ranking in the top 3% of 52,717 Ohio licensed contractors.
Copyright © 2022 All rights reserved.